Bowland Mountain Rescue Team save man from peat bog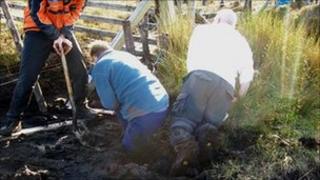 A 52-year-old man got trapped in a peat bog when he was walking in Lancashire.
Four members of The Bowland Pennine Mountain Rescue Team had to dig the man free after he stepped into the bog between Saddle Fell and Totridge on Wednesday.
Earlier, a friend had tried unsuccessfully to drag him out when he was thigh deep in the mire.
The man, from Garstang, was eventually released unharmed said the mountain rescue.
The three-hour operation involved 15 members of the mountain rescue team.