Lancashire built eco-car taken out of rally competition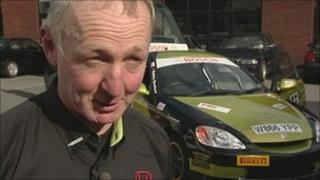 A hybrid rally car built in Lancashire has been withdrawn from a competition because its technology was thought to give it an unfair advantage.
For the past six years the Oaktec team, based in Cockerham, have entered the Formula 1000 championships with their one litre Honda hybrid vehicle.
The car is thought to be the world's greenest rally car.
Recently it began out-performing the two litre cars it was competing against.
'Bit of glory'
Oaktec's engineer and driver, Paul Andrews, said he appreciated why they had to pull out of the racing challenges.
"We're not miles in front, but we just have that edge," Mr Andrews said.
"We don't want to destabilise a very good championship, we always told the organisers we would step down if people were not happy.
"But this year was our big chance for a bit of glory and unfortunately halfway through this season it's come to an end.
"We entered rallying six years ago to prove that an eco-car can be competitive and effective in motorsport."
Similar challenges
He said the car had achieved quicker times and had got to the top of the field in competitive rally times. Out of three rallies the car has won two and came second in the third race.
The car is a Honda Insight hybrid first generation, with a petrol engine and electric motor and when first seen at motorsport events was thought to be a gear change away from the traditional rally car.
"When we first appeared on the rally stage people thought we were weird, the whole shape of the car is different to the conventional rally car, which tend to be butch and macho, ours is fairly quiet too."
The team are uncertain where to go regarding taking part in other rallying events, they still want to take part in similar challenges to help with the development of the car.
"As we can't compete in this championship it takes the edge off it as it's good to be in fierce competition with other drivers," he added.
Formula 1000 is a racing series for cars powered by engines no bigger than 1,000cc in size.