New group to run Rossendale dry ski centre attraction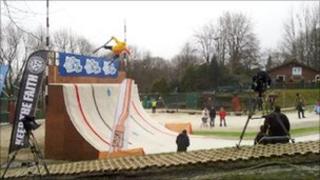 Four former directors have taken over the running of a dry ski centre in Lancashire after £100,000 of council funding was withdrawn.
Ski Rossendale opened in the 1970s but was forced to close when Rossendale Council announced it had to make savings of £500,000.
It is considered to be a "key leisure site" in the area but its new owners say it needs some reinvestment.
Final agreements should be completed by the end of July.
Ski Rossendale Ltd is a partnership with the skiing centre's staff and local community members.
'Steady regeneration'
Managing director David Fuller, who coaches at the site, said: "The organisation is made up of four directors, all who have long standing links with Ski Rossendale.
"I started skiing there when it opened in 1973 so we have a fair understanding of the slope and nature of the business.
"It needs some money spending on it, our basic business plan is one of steady regeneration as there's no massive golden pot of money."
The council said finding a new occupier for the site had been a top priority for the council.
Councillor Alyson Barnes, leader of Rossendale Council, said awarding the lease to Ski Rossendale Limited "places the facility in safe hands".