'Reggie Perrin' paedophile jailed for seven years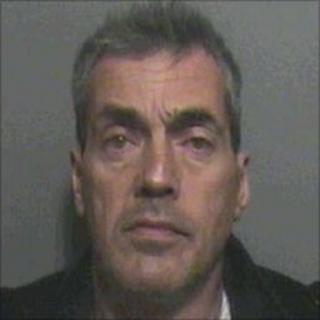 A paedophile who faked his own death by leaving his clothes, car keys and a suicide note on a Lancashire beach has been jailed for seven years.
Leslie Andrews, formerly of Blackpool, engineered the Reggie Perrin-style disappearance in May 2002 to evade an investigation into him abusing a girl.
The 54-year-old was eventually traced to Wakefield, West Yorkshire, in 2010.
He was convicted of 14 counts of indecent assault on a young girl, at an earlier hearing at Preston Crown Court.
Giving evidence in the trial, his now grown-up victim told the jury: "He knows and I know he's guilty. He's not man enough to deal with his guilt just like he wasn't man enough and did a Reggie Perrin."
The woman, who cannot be identified for legal reasons, burst into tears after the former cafe owner was sentenced.
'Sexual plaything'
Judge Norman Wright, sentencing, told Andrews: "When these matters came to light, you decided you were not going to face the music.
"You disappeared and acted out an elaborate charade around Blackpool beach to put people off the scent.
"Your victim was young and vulnerable. She was a little girl who did not know what was happening but knew something was not right.
"She was your sexual play-thing for some five years or so and you have to pay the price."
He said the "worrying features" of the case were "controlling, manipulative and predatory behaviour".
Judge Wright said Andrews had become "emboldened" when the victim initially raised concerns that he had inappropriately kissed her and did not pursue the matter.
"This was a shot across the bows, but you were emboldened and you thought you could get away with it," he said.
Andrews had kept a low profile for eight years, having changed his name to Christopher Trent. He did not visit a doctor or dentist, nor did he use his National Insurance number.
His true identity was revealed during background checks made when he was arrested on suspicion of theft in 2010.
Police had visited Andrews at his flat in St Heliers Road in 2002 and told him a girl had made sexual allegations against him and said he would be questioned in the near future.
A few days later he drove to Lytham St Annes and parked his red Ford Escort by the beach.
'Horrendous offences'
He walked across the sand towards the sea, left his personal items, then disappeared like the television character Reggie Perrin.
Andrews admitted the suicide ruse during his trial but told jurors he had wanted to start a new life because of mounting debts and marital problems.
He told no-one of his scheme and cut off all contact with his wife and family.
He went on to have relationships with other women who were unaware of his true identity.
Robin Kitching, defending, said Andrews had now admitted to four of the sexual assaults but maintained his innocence over the rest of the counts.
"For the offences he admits he describes them as horrendous and wishes to apologise for those matters," he said.
Andrews was also placed on the sex offenders register for life and restricted from contact with any child aged under 16.