Preston Baptist church up for sale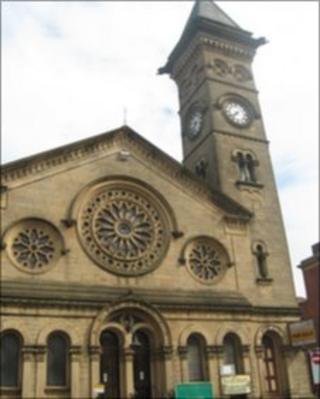 A church which is a distinctive part of the Preston skyline has gone up for sale.
The Grade II listed Fishergate Baptist Church is on the main shopping street and is on the market for £500,000.
Reverend Phil Jump said the congregation had worked very hard to keep the building open and it was unfortunate that it had to close.
"It is disappointing that we really can't sustain such a really beautiful place anymore," he said.
"One of the difficulties for us as Baptists is that we have actually got two city centre churches in Preston. City centre churches are particularly difficult to sustain in today's world.
"People prefer a church in their own neighbourhood, it used to be free to park on a Sunday and it isn't now, and even environmentally should you be driving into a city centre to worship when there are churches on your own doorstep?"
Mr Jump said the building has a basement which has been home to many voluntary groups and it would be a shame to see them without a base.
"I would want to pay an enormous tribute to the congregation at Fishergate who have worked so hard to try and find ways to keep the building open, to keep it operating," he said.
The property is on the market with Longden and Cook, who said there has been plenty of interest with one potential buyer travelling from Hong Kong for a viewing.