Brooks Fulwood Academy governor role questioned by NUT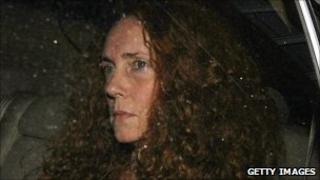 A teaching union has called on a Lancashire school, where Rebekah Brooks is a governor, to drop her from plans to hand out end-of year prizes.
The News International chief executive is expected to attend Preston's Fulwood Academy, where she has been a governor since it opened in 2009, on Wednesday.
Lancashire's NUT secretary said Ms Brooks' attendance was "inappropriate" during phone-hacking investigations .
But the school said Ms Brooks' invitation would not be withdrawn.
The 43-year-old former News of the World editor has come under pressure to resign.
'Very supportive'
On reports that she had offered her resignation over allegations that her staff had hacked into private phones, David Cameron said: "In this situation I would have taken it."
NUT Lancashire secretary Ken Cridland said: "Until the investigation into the allegations is complete how can we know if she is a suitable person to influence young people?
"Clearly any knowledge she may bring to the school of the newspaper industry is rather tainted.
"I think the school would be very unwise to go ahead as there is an issue about her being a role model at this time because there are so many question marks."
Fulwood Academy receives funding from its sponsor Carphone Warehouse, run by Charles Dunstone, a friend of Ms Brooks.
Chair of governors at Fulwood Academy, David Goldie said: "All academy governors are unpaid volunteers. Rebekah became a governor in her personal capacity not as a representative of News International.
"Rebekah has been very supportive of the school, particularly assisting in the renewal of our school library.
"She has also played a significant part in helping the school's initiative to launch its own newspaper which will be edited by our sixth form.
"The Academy has no comment to make on the events at News International."
He said that Ms Brooks remained invited to the prize-giving event.