Rossendale farmers told: 'Bring rubbish to town'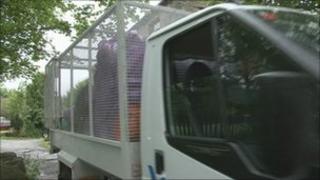 People in a Lancashire town are angry that rubbish collections at outlying homes are being scrapped to save council funds.
Rossendale Council wants to stop collections at 700 farms and remote homes and has asked rural householders to drive their rubbish into town.
The scheme to be introduced in August will save £92,000. The council needs to save £1.6m in 2011 and £1m in 2012.
Special collection trucks that fit up narrow lanes will cease to operate.
The council has organised a series of dropping-off zones for rural householders and has distributed boot-liners to help protect cars.
'No smell'
Dave Christian, 68, of Burnley Road East, who lives just within the town, said: "The eight or nine properties up the lane will be bagging their rubbish up the day before collections and bringing it down and putting it here right outside my property for collection.
"That's 30 bags of rubbish which the foxes will come down to during the night and shred up, and before I know it the whole lane will be covered in all sorts of rotting food."
Rossendale Labour councillor Christine Lamb said: "It's costing a lot more money to collect from these homes. It's 200% more because we have to have two specialised vehicles.
"We have specially commissioned some large boot-liners which have a lid on as well so that there'll be no smell. They will take at least three sacks of waste."
The scheme was approved in February by the then Conservative-led council and has been taken on by the Labour council, which succeeded it.
A Rossendale Council spokesman said consultation was still being carried out and that feedback was welcome.