Bishop of Blackburn happy at increasing church numbers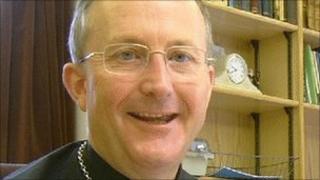 The Bishop of Blackburn has said the recent ordinations of 16 new deacons and priests is a sign that religious life is growing in Lancashire.
The Right Reverend Nicholas Reade said recent national figures suggesting fewer people are going to church only told half the story.
"As I go around Lancashire I see vibrant congregations," he said.
The report suggested the number of Sunday churchgoers had fallen to 6.5 million from 10 million a decade ago.
Statistics are variable depending on which report is current but the national trend is downward.
Latest figures report less than 2% of people go to church on a Sunday. In Lancashire, the Anglican churches claim more than that and also suggest church statistics shouldn't just be a head count of Sunday attendees.
"Admittedly it isn't everywhere, but there is growth," the Bishop said. "We are not just concerned about counting numbers coming through the doors on a Sunday.
"More and more are coming on weekdays and some only come once a month."
One church spokesman in the Blackburn Diocese suggested regular congregations are nearer 5% of the population.
Popular activities
The Bishop emphasised that he believes we are living in a profoundly religious age: "If you were to go out on the street and ask people if they had been to an act of worship in the last month you would be surprised at the number of people who have."
He also cited the new forms of church which are emerging, saying, "I rejoice too at the number of fresh expressions in Lancashire."
Fresh expressions are religious gatherings that take place alongside other popular activities. They are often organised by church groups.
Examples in Lancashire include a new artistic Messy Church in Morecambe, church car boot sales, a Christian run cafe and shop in Lytham and the widely supported Lancashire Sings Christmas, which embraced carol singing in 73 locations across the county, including supermarkets, pubs and even Preston Railway Station.
"Obviously I hope people will come to church on a Sunday," the Bishop continued. "I still believe that we should go to the Lord's service on the Lord's Day in the Lord's house.
"I believe Sunday is special. That said, I am going to work to get people to come to church whenever they can get to church."
Joe Wilson presents the faith programme on BBC Radio Lancashire from 6am each Sunday.