Rebekah Brooks cancels Fulwood Academy prize-giving role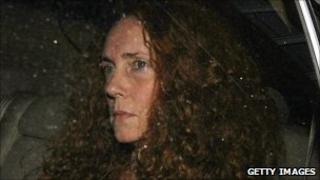 Rebekah Brooks has withdrawn from a prize-giving event at Preston's Fulwood Academy, where she acts as a governor.
The News International chief executive told the school that increased media interest in her might "overshadow and spoil" the evening for students.
The National Union of Teachers last week called on the school to cancel her appearance, calling it "inappropriate".
Ms Brooks has been under pressure to resign from News International due to the recent phone hacking scandal.
A statement from David Goldie, Chair of Governors at the school, said: "There has been understandable interest in whether Rebekah Brooks will be attending Fulwood Academy's annual prize-giving this Wednesday evening, as she had planned to do following a long-standing invitation.
"Ms Brooks has advised us this morning that she has decided not to attend.
"Rebekah felt that the media interest in her attendance might overshadow and spoil this special evening for the prize-winning students of the Academy."
Ms Brooks has been meeting in London with News Corp chairman Rupert Murdoch and his son James over the phone hacking allegations that led to the shutting down of the News of the World.