Carnforth station bids for mainline return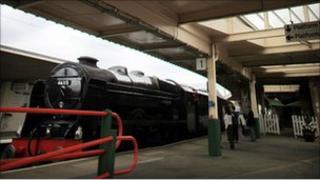 The Lancashire railway station featured in the film Brief Encounter should be added to the West Coast Mainline, a Conservative MP has told parliament.
David Morris said adding Carnforth to the route would boost the local economy.
Mr Morris, MP for Morecambe and Lunesdale, said the local community would raise funds for the project.
The station, which was restored in 2003, was last used as a mainline stop in 1970.
It was reopened as a refreshment room and visitor centre by the local community.
In a Commons debate, Mr Morris said stations like Carnforth could be added to the mainline if high-speed rail was brought to northern England.
He said trains currently stop at Carnforth in the morning and evening for cleaning, but no passengers are allowed on.
'Big Society'
He added: "We will raise our own funds for our project - that is unheard of but we can do this.
"We've already rebuilt the station from a shell and we can relay the platforms.
"This is the Big Society in its highest form - to integrate with an infrastructure network that has been serving our country for over 100 years."
Transport minister Norman Baker said it was vital to consider whether a stop at Carnforth would work "operationally and commercially".
He added: "Initial analysis from the department suggests that a call at Carnforth would require a stop at another station to be deleted, so a potential gain at Carnforth would result in a disbenefit to passengers at other stations along the route."
He also warned that overall journey times would be increased by five minutes.
The historic station was made famous in the 1945 romantic film starring Celia Johnson and Trevor Howard.