Burnley Wood's empty houses get picture makeover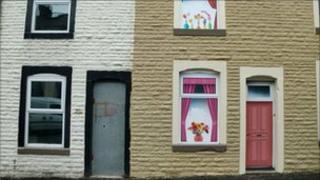 With vases of brightly coloured flowers, co-ordinated curtains and welcoming front doors, a street in Lancashire looks the perfect picture of a homely neighbourhood.
However a closer look at the properties on Reed Street in the Burnley Wood area of Burnley reveals it to be just paintings on boarded up derelict homes.
Burnley Council has worked with a housing association to make the two-up two-down terraced street more appealing after complaints from residents.
Neal Cowgill, from Accent Regeneration and Community Partnerships, said the facelifts were needed.
"Residents facing these were fed up looking at an eyesore every day, you had a mixture of wood board sheets and steel shutters," he said.
"They were looking at disrepair when they came out of their own properties, so the first objective was to do something cosmetic to brighten it up.
"We did something quirky, which has been tried before in Newcastle."
'Novel and quirky'
The community housing group also wanted to encourage the owners of the empty properties to bring them back into use.
Originally there were 17 properties on the street and 16 of these have now been painted after the owners signed consent forms.
The final one is waiting to be done, while the owner is traced.
"We've had some great feedback already," Mr Cowgill said.
"People think they're novel, quirky, humorous."
The association also wanted to provide some form of training opportunities for local people.
Trainees from the Futures Job Fund scheme, which helps the long-term unemployed and those from disadvantaged backgrounds, undertook the renovations.
James Bullock said his time spent on improving Reed Street had provided useful skills.
"This job has been on a massive scale and it looks amazing," Mr Bullock said.
"We had people coming out to talk to us, bring us brews, it's given us a chance to advance our skills."
The council said the cost of revamping each property was about £1,000 and was part of wider plans to regenerate the area alongside private sector investment.
In March the property website Mouseprice.com revealed that Burnley had the cheapest homes to buy anywhere in England and Wales.
A two-bedroom house on the street sold for £30,000 last December according to the website, which quoted Land Registry figures.
The terraced neighbourhoods of Burnley Wood comes from when Burnley was the world's biggest producer of cotton cloth and many worked in the nearby weaving mills.