Nelson's giant shuttle sculpture lifted into place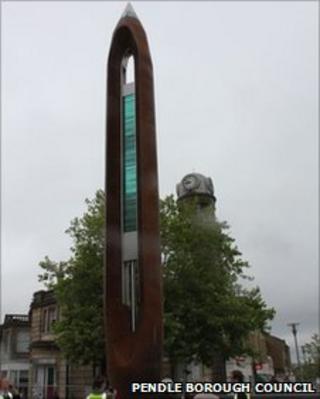 A 12m (39ft) high steel sculpture of a weaving shuttle has been lowered into place in Nelson town centre.
The monument was designed to celebrate the Lancashire town's importance in the industrial revolution.
Designed by artist Dave Palmer, it is made from a weathered steel to give it the same rusted colour as a traditional wooden shuttle.
It is surrounded by granite blocks engraved with local phrases and a mill song and will be lit up at night.
Some of the sayings, written in Lancashire dialect, include "wen yer can si pendle hill, it's bahn ter rain. an w'en yer cahn't, it is", which means when you can see Pendle Hill it's bound to rain, and if you can't it is.
Others include "if fowk spak' as thi thowt, ther'd bi few friends" (if folk spoke as they thought they'd have few friends) and "'e cudn't stop a pig in a ginnil" (he has bow legs).
Big day
The Shuttle stands at the junction of Market Street and Scotland Road, and has a seated area around it.
It will be officially unveiled in mid-August, when the installation will be complete.
Hanna Latty, project manager from Pendle Borough Council, said: "It's just fantastic to see it up and to see how good it looks, because you never quite know how good it's going to look until you see it in there.
"It's very exciting, it looks perfect in the amphitheatre, people should come and see it, it looks really good."
Mr Palmer, who is based at Reedley Marina, designed the five tonne structure after being approached by Pendle Borough Council.
He said: "It's a big day for me, the end of about 100 days of welding and fabricating a structure that has lived with me for about two or three months now."
The project is part of £2.1m improvements to Nelson town centre which have been funded by the Northwest Regional Development Agency and the European Regional Development Fund.
Nelson, a mill town, expanded at the turn of the 19th Century as the cotton industry grew.