Blackburn and Darwen street gully grids stolen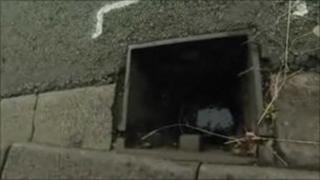 Twenty-one street gully grid covers have been stolen in ten days in the Blackburn and Darwen areas of Lancashire.
The total cost of replacing them could run to more than £10,000, a police spokesman said.
Officers are seeking a white man, aged between 35 and 40-years-old with dark brown hair and a goatee beard who was seen acting suspiciously in the area.
He was spotted with a woman and a child in a white Ford Transit van.
"The total cost of this is thought to run into thousands of pounds because the entire surround of the grid has to be removed in order to refit them and as such the estimate cost of replacing all of the stolen objects is expected to be over £10,000," Pc David Byrne said.
The grids were taken stolen from Progress Street, Meadow Street, Whalley Crescent, Ellenshaw Road, School Street, Tythebarn Street, Marsh House Lane, Bury Fold Lane, Green Arms Road , Entwistle Street, Greenway Street, Watery Lane, Alfred Street, Blackburn Road and Woodville Terrace in Darwen.
Grids were also taken from Harrison Street, Lincoln Road, and Accrington Road in Blackburn between 4 and 14 July.