Blackpool football legend Jimmy Armfield honoured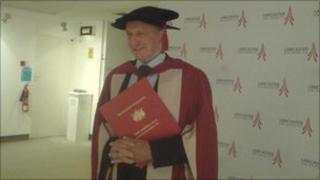 Former Blackpool star Jimmy Armfield has been awarded an honorary degree by Lancaster University.
The right back played more than 600 games for Blackpool and 43 for England.
He had made the seaside resort his home as a youngster after being evacuated there from Manchester during World War II.
Earlier in the year, a bronze sculpture of Mr Armfield, 75, was placed outside Blackpool's Bloomfield Road ground.
He played his final game for Blackpool in May 1971 and moved into management with Bolton Wanderers, leading them to the Division Three title in 1973.
Speaking after the ceremony, Mr Armfield said he felt humbled by receiving the degree.
Organist and choirmaster
"A degree is like having a passport, whichever land or direction it takes you is up to you," he said.
"The cost of education is priceless. Education helped me even though I only got to A levels. Like health, it's priceless."
Mr Armfield, who is now a football pundit on BBC's Radio 5live, was awarded the CBE for services to football last year and a place in the Hall of Fame at the National Football Museum in 2008.
The university said it was awarding him the degree because he was an eminent Lancastrian.
"Jimmy Armfield is a living embodiment of that precious link between sporting achievement and the highest ideals of sportsmanship," lecturer Dr Gavin Hyman said at the ceremony.
"His accomplishments are undoubted and well-known and have been firmly rooted in the local, and in a dedicated commitment to Lancashire in general and Blackpool in particular."
He said as well as having been a deputy lieutenant and a high sheriff of Lancashire, Mr Armfield had also "tirelessly served" in more unsung ways.
"He has long been a governor of his old school in Blackpool and has served as temporary organist and choirmaster of his local parish church," Dr Hyman said.
"Such multifarious activities are suggestive of a satisfyingly well-rounded personality, one whose life has been shaped but not defined by football."
Others who received honorary awards were the Chief Medical Officer for England Sally Davies, nuclear expert Dame Sue Ion, Lord Smith of Finsbury (former cabinet minister Chris Smith) and palaeoclimatologist Professor Lonnie Thompson.