Claim of Blackburn baby identity swap 'fanciful'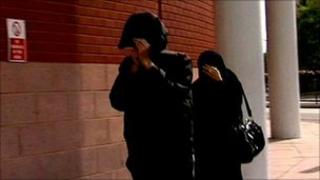 An accusation that a couple charged with cruelty to one of their twins, attempted to switch their identities was described as "fanciful" in court.
Preston Crown Court had been told the switch took place in the weeks leading up to the death of their seven-month-old baby on 15 June 2009.
Mohammed Karolia, 29, and Nafisa Karolia, 22, of Meadow Close, Blackburn, deny child cruelty.
Their defence counsel said the switching allegation was "far-fetched".
The seven-month-old was rushed to hospital after her parents reported she had breathing difficulties and was pronounced dead shortly afterwards, the court heard.
The prosecution said the Karolias told medics at Royal Blackburn Hospital that she was the healthier and smaller of their identical twins before they allegedly later decided to name her sibling on the death certificate.
'Far-fetched' notion
The court heard the couple tried to hide the poorly twin from friends and neighbours in the weeks leading up to her death and had tricked a social worker into thinking she was examining the twin who later died.
The victim, who was referred to as Girl M in court, had suffered brain damage and fractured ribs, legs and arms.
The prosecution said the broken bones were said to have taken place between 24 hours and six weeks before death, while a post-mortem examination found she died of bronchopneumonia.
Suzanne Goddard QC, defending Mrs Karolia, told the jury: "You can only find Nafisa Karolia guilty of cruelty if you were sure that she was a knowing party to an assault or series of assaults.
"That she knew the child was being deliberately assaulted or ill-treated and was encouraging what was going on by hiding the identity of the twin or taking any other steps."
Graham Wood QC, representing Mr Karolia, said: "The whole notion of a conspiracy or a cover-up by swapping is both fanciful and far-fetched.
"Mohammed Karolia's case is that neither he or his wife did anything to harm their baby."
The trial continues.