Rossendale's Incredible Edible community garden launched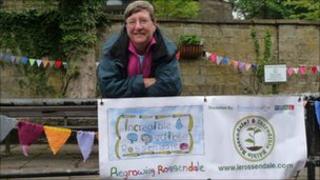 Visitors to a Lancashire park can now pick their own free fruit and vegetables at a new community garden.
Rawtenstall's Whitaker Park is the latest location to boast a communal garden looked after by volunteers which actively encourages anyone passing by to pick and eat what is growing.
The garden, called Incredible Edibles Rossendale, is a healthy eating project inspired by an award-winning scheme launched in Todmorden.
It is sited next to the Rossendale Museum and was opened by TV gardener Christine Walkden, now the organisation's patron.
"This is just fantastic, lovely healthy crops, people's spirit when you come through the gates is terrific," she said.
"It's great to see people engaged with gardening in a way we may not have done for many years.
"There will be people coming along saying they didn't know, say, something like sprouts grew that way."
She said that in the past public gardens and allotments had had to combat problems with vandalism and theft but because the garden would belong to the community, perhaps such problems would be avoided.
"Now people are beginning to appreciate the value of growing and if they have been involved in this garden they will be more watchful and report anything that's wrong," she said.
Rocket, cabbages, radishes, as well as fruit trees and shrubs are all thriving, having been donated and planted by an expanding team of volunteers.
Horticultural students from Alder Grange Community and Technology College are also involved in the community garden, which is next to a Victorian medicinal garden that is also being transformed after becoming overgrown.
One of the scheme's champions Paul Scott-Bates said: "It's taken over two years to get here, now is the time to do something like this, people want to grow veg.
"You don't need an invite to come and pick yourselves some produce and pull some weeds out.
"In fact we've noticed that people are so used to being told not to touch or pick plants when they usually go into places like these that we really need to stress that they can really help themselves.
"If gardeners have spare or unwanted fruit, veg, edible flower plants, they can bring them here and plant them in the garden.
"This isn't a garden that belongs to Incredible Edibles or the council, it belongs to everyone in Rossendale, so come on and help yourself."