Lytham Hall to get £2.4m heritage lottery revamp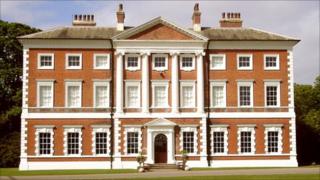 Restoration work to one of the Fylde coast's landmark buildings has been given the go ahead after a Heritage Lottery grant of £2.4m was awarded.
The money will help save Lytham Hall after it was placed on English Heritage's "at-risk" register.
A spokesman for the Lytham Town Trust, which owns the hall, said the news came as a "mixture of ecstasy and relief".
Once all the work has been completed the hall will be opened to the public during the winter months.
The renovations will include replacing inadequate heating and antiquated electrical systems.
The project also aspires to recreating a 19th Century park landscape, clearing the overgrown Mound hill area which will open up views from the hall and restoring the Italianate Garden. New woodland paths will also be created through the parklands.
A spokeswoman for the Heritage Lottery Fund in the north west said Lytham Hall was a "wonderful heritage treasure" and the money would fund important conservation work.
Chelsea Physic Garden
The hall, designed by British architect John Carr, was built between 1757 and 1764, incorporating an earlier 17th Century manor.
Reputed to be one of Carr's finest buildings, Lytham Hall was owned by the prominent local Clifton family until 1963 and houses important art and furniture collections that will be re-displayed as part of the project.
The park entrance and drive were laid out by the Victorian landscape designer Edward Kemp, and the parkland contains a number of listed structures including a dovecote, stable block, entrance archway and lodges.
"When we got the news we had a great sigh of relief as we can now save the hall for future communities and generations," David Gill, Chair of the Lytham Town Trust, said.
"When I received the news it was with a mixture of ecstasy and relief. The first work will be in the gardens, they'll be landscaped, we're looking to recreate something like the Chelsea Physic Garden.
"There's also the mound that we're wanting to clear so that people can walk to the top and look out over the area. We've been overwhelmed by support for this well-loved building"
Mr Gill said there had been great support from people in the area, from collection boxes in shops to someone designing a Lytham Hall pizza and selling it to raise funds.
The Hall estate was the property of the Clifton family from 1606 until 1963, when it was bought by Guardian Royal Exchange.
In 1996 the hall and its remaining 80 acre estate was put up for sale and was purchased by Lytham Town Trust with the help of a £1m donation from British Aerospace. In 1998 management of the hall was transferred to the Heritage Trust for the North West who took over on a 99 year lease.