St Annes sand yacht ban set to be lifted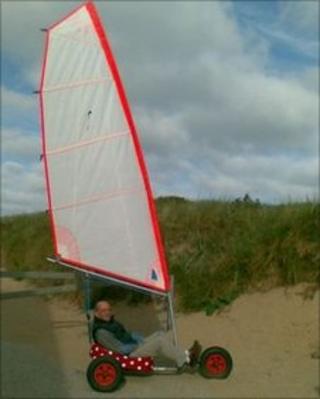 Sand yachting is set to return to a Lancashire beach, nine years after a woman was killed in an accident there.
The sport has been banned in the area since Carole Cruz, 38, of Burnley, was struck by a racing sand yacht as she walked on St Annes beach in 2002.
The pilot was cleared of manslaughter, but Fylde Borough Council did not reinstate the sand yachting licence.
Organisers of the sport have now been given the go-ahead for a trial to test safety and environmental measures.
The trial will address safety concerns, to ensure members of the public are not put at risk.
It will also look at what affect, if any, it has on local wildlife, which include birds and rare lizards.
A council spokesman said the trial depended on an agreement being reached between Fylde International Sand Yacht Club and Natural England about how the wildlife will be monitored.
Once this is done the trial will begin and last until the end of September.
A council spokesman said: "Sand yachting has been a very popular activity and we hope that it will be as popular when it returns.
"It is also important that the wildlife will be protected."
Great loss
Fylde Mayor Howard Henshaw has been calling for a return of the windsport to the beach since the accident happened.
He said: "It was a great loss as St Annes was renowned worldwide in the international sand yachting community.
"I believe that when we had this tragic accident, and obviously it was tragic, it was a knee-jerk reaction that the council has had."
Ian Dibden, chairman of Fylde International Sand Yacht Club, said: "I am sure it will be safe.
"I was in the firing line the first time round so there is no way that I will let anything go out there without the safety being in place.
"I have sailed on this beach for 50 years. Most of the birds are in the estuary at Southport, not in the middle of St Anne's beach."
Mrs Cruz was walking on the beach with her two sons when she was hit by the sand yacht, which was travelling at 45mph.
Adrian Warren, 49, of Cedar Road, Doncaster, was sailing the sand yacht which struck Mrs Cruz in a race with the Fylde International Sand Yacht Club.
He was cleared of her manslaughter at Preston Crown Court in September 2004.