Scarisbrick gourmet mushrooms to be sold across the UK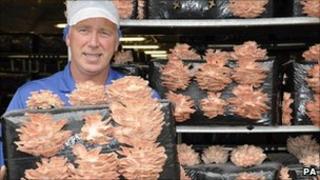 Gourmet mushrooms grown in a small village in Lancashire are to be sold in supermarkets across the UK.
The pink oyster mushrooms are grown by specialists Smithy Mushrooms, from Scarisbrick, who have been growing exotic varieties for 20 years.
"I don't think they'll ever replace white button mushrooms in popularity," said owner John Dorrian, "but I wish they would."
The mushrooms are set to be sold in 200 Tesco stores.
"Since celebrity chefs have started using mushrooms, they've really grown in popularity," added Mr Dorrian.
Oyster mushrooms are usually found on trees, and are grown in upright bags to imitate the natural environment in humid conditions on the four-acre site near Ormskirk.
Simon Mandelbaum, Tesco's mushroom buyer, said: "Not so long ago gourmet mushrooms were still the preserve of real foodies and could generally only be found in specialist shops.
"Over the last few years that has changed."
Oyster mushrooms originate from the tropics and have a mild, creamy flavour.