Lancaster indoor market's move to museum scrapped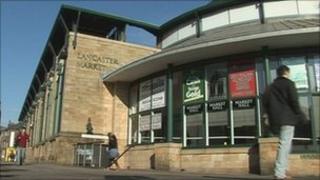 Plans to move Lancaster Market into the City Museum have been scrapped.
Lancaster City Council was considering developing the museum on Market Square to accommodate the indoor market as a way of cutting costs.
The council has an annual deficit of about £500,000 on the lease of the market building.
The cabinet has rejected the idea and instead will work on moving all the market traders on to the ground floor of the existing building.
It is hoped the top floor could then be used by another business.
The city council saved the Common Garden Street shopping venue, which has 29 stalls, from closure last year.
Good atmosphere
It had planned to sell the property to a single retailer but the proposal was dropped when a suitable retailer could not be found.
Councillor Jon Barry, Lancaster City Council cabinet member with responsibility for markets, said: "We are locked into a 99-year lease and stalls are not doing as well as we would like, so we were looking at ways we could get out of that deficit.
"The key really was could you find another place for the museum, the places they looked at were Lancaster Castle and maybe a joint museum on the quay with the Maritime Museum.
"Both of those could happen but not in the near future so because of that we are not pursuing that option further at the moment."
He added: "What we would like to do is move all the traders onto the bottom floor because then you have a one-floor market, a good atmosphere and you leave the top floor vacant for maybe a bigger unit so that the council could start to eat into that deficit if you like."