Blackburn's Thwaites brewery announces relocation plans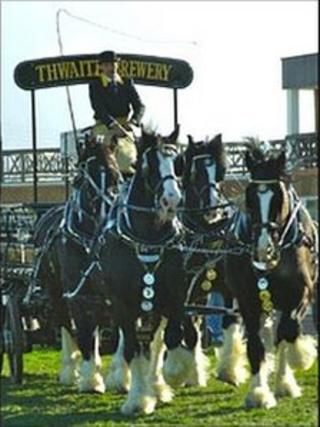 One of Blackburn's most famous landmarks, the Daniel Thwaites brewery, has announced it is to move to a new out-of-town location.
The 200-year-old Lancashire brewery business said its current base, which was built in 1966, needed major modernisation.
Thwaites employs more than 300 people and the company says a new site will allow it to grow in the future.
It is in talks with Sainsbury's for the site to become a supermarket.
The move could take up to four years to complete as the company is in discussion with Blackburn with Darwen Council to help identify a suitable local site for the new brewery.
"This is a great opportunity for us to address the challenges that we face with our existing brewery and to reinvigorate our business by building a new modern and efficient brewery," Richard Bailey, Thwaites's chief executive, said.
"It signals our commitment to brewing our fine ales over the longer term and underpins sustainable employment locally.
"While we have been in the centre of Blackburn for over 200 years, times have changed and these plans allow us to lay strong foundations for the future."
The company is well known for its traditional Shire horse drawn wagons. In 1985 the dray horses were awarded freedom of Blackburn.