Blackpool Tower 'to be like' Empire State Building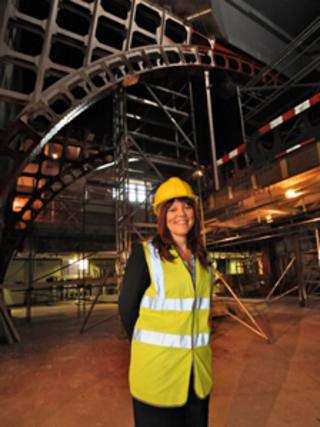 "You don't leave New York without going up the Empire State Building, you won't leave the north west without going up the Blackpool Tower Eye", enthused the new general manager of the iconic, Grade I listed, Lancashire attraction.
Kate Shane is the tower's first female general manger and reckons that the £10m tower renovation programme will draw in some 800,000 new visitors.
Dozens of workmen are busy building the new Tower Eye and Dungeon attractions, which open in September, as well as a new restaurant, cinema and glass walkway at the top.
"It's going to be unrecognisable, a total refurbishment and renovation. Visitors who have been before won't recognise it and new visitors will be amazed," Mrs Shane said.
"Bringing new people in, that brings new money in, more investment, better jobs, a better economy. I want it to be a similar experience to going to New York's Empire State Building."
'Panoramic views'
With less than 40 days until it reopens Mrs Shane said the renovations had uncovered some long forgotten treasures in the "heritage building".
"The level six part of the original tower queuing area, people will be amazed when they see what we have done," she said.
"We've taken plasterboard off and revealed the old bricks and found some ornate stone archways, and a stained glass window that's been covered since the 1950s.
"Originally at the tower top we had a walk of faith, which was a metre square sheet of glass that you could stand on and look down, that's gone now.
"The whole of the west elevation is going to be glass, it's going to be called the Skywalk with panoramic views of the Irish Sea and the new comedy carpet below."
To become the tower's newest manager was a dream come true for Kate Shane, who has lived in the area for more than 30 years.
Before coming to the tower she worked for a local construction company, and before that for Leisure Parcs who were the tower's former owners.
She remembers being brought to the resort by her parents in their car with her brother when she was younger.
"This is a great moment in my life, I'm very proud of Blackpool and to be involved in Blackpool Tower.
Blackpool Tower is part of a major £20m regeneration plan for the iconic tower and promenade areas developed by Blackpool Council in partnership with visitor attractions operator Merlin Entertainments who manage the tower complex on behalf of the council.