Church blessing for Woodplumpton pub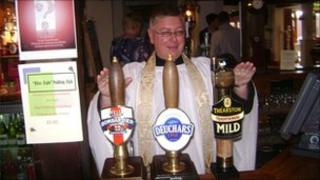 A pub in Woodplumpton may soon be laying claim to be the holiest hostelry in Lancashire.
In what is thought to be a first for the county, the beer pumps of The Wheatsheaf Hotel on Woodplumpton Road have been blessed by the local vicar.
"I want to bring the pub and the church closer together", the Reverend Brian Whitely, of St Anne's Church, said.
He said the blessing was important as church clergy became "more contemporary in our outreach".
"Historically, the church, the pub and the school were the centre of village life," Mr Whitely said.
"I think it is important we are seen as working together in this time of going for growth in communities."
Holy blessing
The idea came to him when he was in pub collecting for Christian Aid.
"I thought that was an absolutely fantastic idea, as a new landlord I thought the pub has to be in with the church and the school as part of the local community," landlord David Cook said.
As customers tucked into their lunch in one room, hen began his service in another, firstly saying prayers, a sermon and then spraying holy water across the pumps, bar and nearby rooms.
He denied the ceremony in anyway demeaned the sanctity of a holy blessing.
"A lot of people might say that but Jesus loved to be out among people, he liked parties and he liked sharing his faith with people", he said.
"I was inspired by the Bishop of Chelmsford who has been laying out beer mats in his dioceses talking about bible and beer.
"I thought that was a good thing to do because we do need to be more contemporary in our outreach."
Joe Wilson presents the faith programme on BBC Radio Lancashire from 06:00 each Sunday.