Funeral for charitable Blackpool landlady Pat Mancini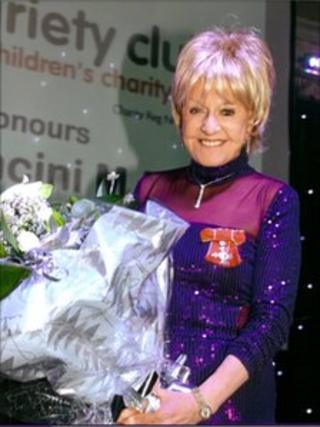 The funeral for a Lancashire hotelier dubbed the "Queen of Blackpool" by some of her showbusiness friends has taken place.
Pat Mancini was born in Manchester but made Blackpool her home for over 40 years where she welcomed thousands of people when they stayed in her hotels.
She died at the Queens Hotel in Blackpool on 21 July, aged 72.
The service took place at Our Lady of the Assumption Church on Common Edge Road on Monday.
The landlady was diagnosed with a malignant brain tumour in 2010 and decided to put her hotel up for sale.
In November she was given a prestigious Variety Club Show Business Award, despite never having acted, sung or danced professionally.
She was nominated by her close friend, singer Joe Longthorne, who performed at a grand dinner held in her honour at the Imperial Hotel.
Charity work
When she and her late husband Rudi first came to Blackpool they scraped enough money together to buy a small guesthouse, Arden House in St Bede's Avenue.
Over the years they bought and sold a number of guesthouses, eventually buying the 107-bedroom Queens Hotel on the promenade in 1985.
The hotel became the favourite after-show venue for many showbusiness personalities who became their friends including Les Dawson, Derek Batey, Danny La Rue, Roy Chubby Brown, Bernard Manning, Bobby Ball, Mick Miller, Johnny Casson, Jeremy Beadle and Frank Carson.
The couple once bought a luxurious house in Lytham but only stayed there one night because Mrs Mancini missed being at her hotel.
Mrs Mancini said the proudest moment in her life was in 2007 when she was awarded the MBE at Buckingham Palace in recognition of her extensive charity work for the town.
She is survived by her daughter, granddaughters, great-grandchildren, sister and brother.