Blackpool Promenade changes criticised by blind people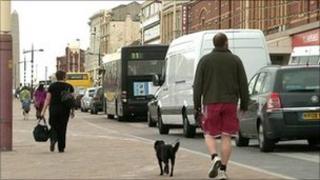 A major scheme to revamp Blackpool Promenade has been criticised by blind people.
They said changes to the road layout, particularly the removal of kerbstones, made the road more unsafe for them.
The £100m regeneration of the promenade has seen improved tram tracks and better sea defences but disabled people claim their safety has been put at risk.
Blackpool Borough Council said the layout was safer than before.
John Gardner, who is visually impaired, said it was difficult to know where the road was.
He said: "There is no indication [where the road is] no tactile or colour contrast or pelican crossings."
Another visually impaired person Carol Holmes added: "There is just nothing for my guide dog to recognise and walk with.
"I'm meant to feel comfortable trying to cross the road among the traffic, but I don't."
Blackpool Council said it was important the scheme, known as shared space, was given more time.
Peter Cross, head of transportation for the council said: "Schemes of this type have a better safety record than the traditional highway layout.
"A lot of it is fear and perception of something different."