Lancashire teenager crowned Young Magician of the Year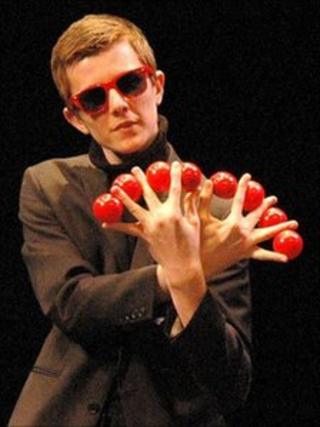 A Lancashire teenager has been crowned The Magic Circle's Young Magician of the Year.
Ben Proos, 16, from Blackburn, was given the title at the 50th anniversary of the event, which is open to young magicians from all over the world.
The competition, which is held every two years, has so far produced 26 winners, many of whom have gone on to successful careers in entertainment.
The contest was first won by Johnny Hart from Blackpool.
Ben was taught magic by Brian Lead, a member of Blackburn's Modern Mystic League and an English teacher at Ben's school where he also runs a magic club.
The teenager enjoys performing practical magic, like hand manipulation and classic card tricks, skills he put to music for the the competition.
'Fool magicians'
He had to put together a stage act, suitable for a family audience, lasting between eight and 12 minutes.
"Within that time you've got to perform tricks which will verge on fooling the other magicians," he said. "It's like doing classical magic, but leading them down a garden path to think it's something else - that's how you fool magicians.
"To get the high marks your act has to really flow from one trick to the next, and has to be joined together well. It has to look stylish and elegant."
Ben said his act was constantly evolving: "As soon as you've got one thing perfect, you've got to raise the bar with the next thing, to make sure everything is better than it was in the last performance."
The teenager hopes his win will enable him to tour the country and one day perform in Las Vegas.