Abandoned Lancashire buzzards released into wild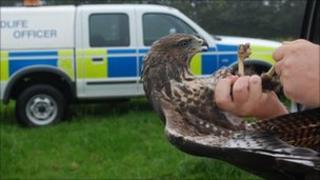 Three buzzards have been released back into the wild after being found dumped in a box on a housing estate in Lancashire.
Police believe the birds had been illegally taken as chicks from a nest in South Ribble last month.
They were found abandoned in a poor state of health in the Robin Hey area of Leyland.
The birds have been through a rehabilitation programme before being released back into the wild.
Birds 'starving'
The process involved keeping the birds in an isolation cage so that they became desensitized to human contact and placing carrion in the pen so that they learnt to find food for themselves.
After being given a thorough health check, the birds were set free at a secret location on Monday.
Mark Thomas, the force wildlife crime officer, said: "When found, the birds were starving and in very poor health.
"Due to the expert care and attention given by Cuerden Birds of Prey they have been able to go back to the wild where they belong.
"It was great to be at the location and watch the buzzards set free.
"This is a great result for the people who have worked hard to get these birds back out into the wild. The investigation into who stole the birds is continuing and I would welcome any information that members of the public may have."
All birds of prey, their nests and eggs are protected by law under the Wildlife and Countryside Act 1981.
Mr Thomas added: "Wild animals should not be forcibly taken from their natural surroundings - it is cruel and unjustified. If you find an injured or, as in this case, dumped animal you should contact a wildlife sanctuary so that they can provide the appropriate care before the creature is released into its natural habitat."