Lancashire Police sends 76 officers to London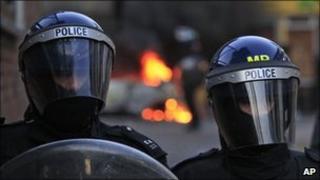 Lancashire Police is sending 76 officers to London to support the Metropolitan Police after three nights of rioting in the capital.
The force also said it would not be approving any new requests for leave or rest days for the duration of the operation in London.
However, it has stopped short of cancelling leave and rest days.
Assistant Chief Constable Peter White said it would not affect the force's ability to deal with local crime.
The violence in London started on Saturday after the fatal shooting by police of Mark Duggan.
An extra 1,700 police officers were deployed in London overnight, where shops were looted and buildings were set alight.
Beyond the capital, hundreds of people took part in disorder in Liverpool, Birmingham, Bristol and Nottingham in what police have called "copycat criminal activity".
There were smaller disturbances in the Medway towns in Kent and also in Leeds.