Extra time to question double murder suspect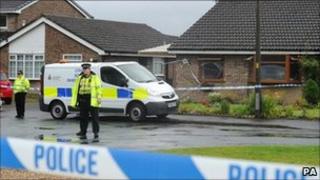 Detectives have been granted extra time to question a man on suspicion of murdering his grandmother and aunt at their Lancashire home.
The bodies of Maureen Allen, 79, and her daughter, Geraldine Allen, 57, were found in a bungalow in Fulwood, Preston, at 02:00 BST on Monday.
Police were granted a warrant to question the 21-year-old suspect for a further 30 hours.
The extension means officers can hold the man until 18:30 BST on Wednesday.
A post-mortem examination carried out on Geraldine Allen revealed she died from multiple stab wounds.
The results of Maureen Allen's post-mortem examinations are due to be released later.
Police said the bungalow on Longfield had been set on fire following the stabbing and that the suspect was arrested at the scene.