Lancashire police numbers cuts 'a mistake'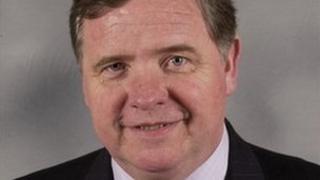 Cutting police officer numbers in light of recent riots would be a mistake, the chairman of the Lancashire Police Federation has said.
Over the next four years, Lancashire Police needs to save £42m, which could lead to the loss of 500 officers.
John O'Reilly said the force could deal with any unrest at the moment, but it could be a different story in future.
"It needed 16,000 officers in London to restore order, the same we're expected to lose nationally," he said.
His comments come after a fourth night of rioting and looting in cities including London, Manchester, Salford, Liverpool, Nottingham and Birmingham.
In March, it was announced that Lancashire Police, which has an annual budget of £287m, faced having to cut £42m from its budget over four years.
The savings would lead to the loss of 500 police officers and 300 civilian staff.
Then, Lancashire's Chief Constable Steve Finnigan said tough decisions were necessary and that he was "under no illusion that these reductions are painful".
At the time, the Lancashire Police Federation, which represents rank and file officers, said its members were already "stretched to the limit".
Mr O'Reilly said the 16,000 officers on the streets in London on Wednesday night was the amount the government was expecting to lose across the UK if planned budget cuts came into force.
'They're cowards'
"In Lancashire in four years' time, we'll be down 500 officers, I'm sure the Met would have loved an extra 500 officers assisting them from Lancashire last night," Mr O'Reilly said.
Speaking about how officers were dealing with the rioting and looting in other parts of England, Mr O'Reilly added: "Police have sufficient powers, but these youths taunt police, they're cowards, they cover their face and run away when challenged.
"But our police officers have more about them than to take on some silly youths.
"We know if anything happens in Lancashire we can respond accordingly."
No-one from Lancashire Police Authority has yet been able to comment on Wednesday.