Blackburn Rovers reveal shirt deal with Prince's Trust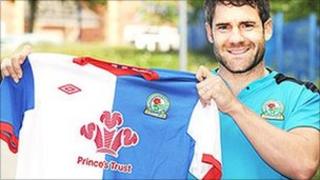 Players for the Lancashire football club Blackburn Rovers are to have the Prince's Trust charity on their shirts rather than company branding.
The new name on the kit replaces its sponsorship deal with Crown Paints which ended last season.
The club will also fundraise for the charity, which works with disadvantaged people, during the coming season.
Other clubs to have featured charities on their strip are Aston Villa, Barcelona and Sheffield Wednesday.
"The club has enjoyed a strong and productive relationship with the Prince's Trust since 2005 and this agreement takes that relationship on to another level," Simon Williams, head of commercial and marketing at the club, said.
'Vital help'
"The exposure the Prince's Trust will obtain as our shirt partner will greatly increase the level of awareness for the charity and hopefully encourage fundraising for the fantastic work they do to with young people."
Through its partnership with the Premier League and Professional Footballers' Association, the Prince's Trust has helped more than 15,000 young people through football since 1997.
The trust said the deal would provide a brilliant opportunity to reach out to the most disadvantaged young people in the community.
Balaji Rao, of Venky's India Ltd which owns the football club, said the branding deal was an important way of helping provide vital help for young people facing unemployment and limited opportunities.
"Helping young people is very much at the forefront of our community work in India and this partnership is a perfect way for us to support charities and worthy causes through football over here," he said.