Ribchester roads closed after rain causes flooding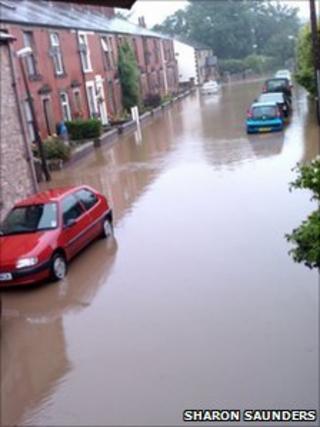 Heavy rain across Lancashire has caused flooding to several roads and homes in a village.
Ribble Valley Borough Council said some Ribchester roads had been closed, including Clitheroe Road from the A59 to Pendle Hill due to surface flooding.
Ribblesdale Road was closed for several hours, and three homes were flooded after Boyce's Brook overflowed.
The Lancashire Wildlife Trust shut its "floating" nature reserve at Brockholes for the day, because of a flood alert.
Ribchester villager Sharon Saunders said: "It's taken a good couple of hours to get the water out of my house.
"Everything's just soaked through.
"It's happened before, so unfortunately we're used to it."
Another local resident, Christopher Freeman, said the River Ribble was "as high as it's been for a good few years".
He said his house, also on Ribblesdale Road, had been flooded six times in the 40 years he had lived there.
"It's only a little cottage, but we've a lovely view up the fells, and that's why we like to stay," he said.
A spokesman for the Met Office predicted more rain later.
He said: "There is further rain on the horizon - bands of rain will move east across the UK during Friday evening and night but at this stage are not expected to cause any disruption."