Lancashire riot police return after being sent to London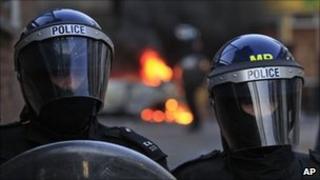 The 76 Lancashire police officers sent to London last week to help deal with the riots are returning home.
The Lancashire Police Federation said the Metropolitan Police had asked that they stay on after initially requesting them for only two or three days.
After a briefing the officers were sent onto the streets of Paddington, to Croydon and the city's Oxford Street.
The officers were applauded as they patrolled the streets the chairman of the federation said.
"It was disruptive for some of the officers' families and alarming with what they saw and heard in the media," John O'Reilly said.
"But they were able to keep in touch on a regular basis."
Speaking about the reaction the officers received while on patrol, he added: "One of our officers said it was like the cavalry arriving everyone was pleased to see good officers there doing what they do best."
An extra 1,700 police officers from forces outside London were deployed onto the capital's streets during the rioting.