Blackburn doctor criticises National Clamps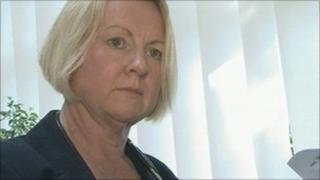 A Lancashire GP has criticised a car clamping firm after her vehicle was targeted when she was visiting a patient.
Angela Parry spent 15 minutes parked at Stonyhurst Close - a private road belonging to a housing association in Blackburn.
Despite showing her identification, the clampers insisted she pay the £80 fine.
Trevor Whitehouse, a director at the Preston-based National Clamps, said his employees had done nothing wrong.
He said there were signs on walls which gave a number to call to ask for permission to park.
'Running costs'
Mr Whitehouse said: "If somebody had put a permit in the [car] window in the first place, or picked the phone up, we wouldn't have been inconvenienced, and we wouldn't have clamped.
"There are plenty of signs, our number is there, just ring us up and ask permission. It takes two minutes and we would have said yes.
"She's not going to get her money back unless somebody wants to contribute to our running costs."
Dr Parry said: "It's all a bit of a rush in the middle of the day when you're visiting patients.
"The last thing you want to be doing is making an extra phone call.
"I might have three or four emergency calls in the middle of the day. It's time that is too precious to spend, we're talking a 15-minute call."
The clamping company is contracted by Twin Valley Homes to ensure people park legally on the road, near the town centre in Blackburn.
Ian Bell, head of housing at Twin Valley Homes, said he hoped to resolve the situation amicably.