Stolen Deepdale stormwater tank metal returned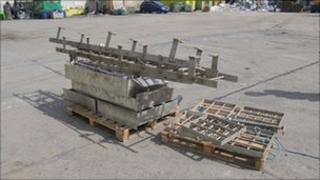 Metal stolen from inside an underground stormwater tank has been recovered by Lancashire Police from a scrap yard.
Stainless steel items including ladders, handrails and valves had been stolen from the tank at the United Utilities site in Deepdale, Preston.
Six manhole covers were also taken from the site on Holme Slack Lane over the last week.
Police returned the items to the company which said they would have cost thousands of pounds to replace.
Officers have been working closely with scrap yards in the area as part of a crackdown on metal theft.
Steve Fraser, United Utilities managing director, said: "Metal thefts are a huge problem for all utility companies.
"Our engineers will begin reinstalling the fittings in the coming days, as well as looking at ways to reinforce access points to the stormwater tank."
A 22-year-old man has been arrested on suspicion of burglary with intent to steal and released on police bail until 1 September pending further enquiries.
A 43-year-old man has also been interviewed by police in connection with the offence.