River Yarrow attracts otters and kingfishers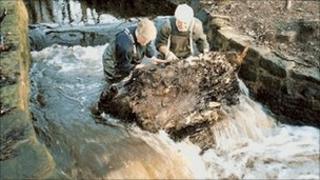 Sightings of otters, kingfishers and dippers are a sure sign that a "much maligned" Lancashire river is improving after 10 years of dedicated work, according to the Friends of the River Yarrow (FRY).
"Over the decades the 22-mile (35km) long waterway has seen decades of pollution from coal mining, dye works, bobbin factories," John Bamford, from FRY, said.
It was seeing an eight pound (3.6kg) salmon struggling in vain to jump a huge weir wall to swim to its spawning grounds that pushed Mr Bamford to join the fledgling friends group 10 years ago.
"Thirty years ago this river was nothing but an open sewer, no life, total pollution," the retired distribution manager for the Crown Paints company said.
"There was a carpet factory once and some days the river would be red, then blue, white.
"When the industry died away the river was uncared for, the mill weirs abandoned, banks eroded, all overgrown, no migratory fish."
Replenishing fish stocks
The river's source is in the Pennines around Winter Hill. The course meanders through farmland to Chorley town and Croston village, before joining the rivers Douglas and Ribble and then the sea.
FRY has more than 250 members, with volunteers regularly out helping maintain the water course and reporting any pollution problems.
After a 100-year absence, salmon and sea trout are now able to swim its length and spawn after the group spent £100,000 building four fish passes.
A further £40,000 has been spent on buffer stripping - putting a fence five yards (4.5m) from the river edge to create a green corridor - to help wildlife like voles and creepy crawlies.
With all the work and the planting of some 5,000 trees, Mr Bamford said the River Yarrow had improved dramatically.
Replenishing fish stocks, enough to support an otter population, are encouraging signs that the decade of work is helping restore the river.
"A group of fly fishermen are now renting a two-mile stretch of the river near Eccleston, the fish numbers and variety are improving," he added.
Through FRY's campaigning for improvements, it has secured a commitment from United Utilities to a five-year plan to spend about £5m on its 21 outflows into the river, to ensure water quality is not compromised.