Chorley cemetery gates locked after spate of thefts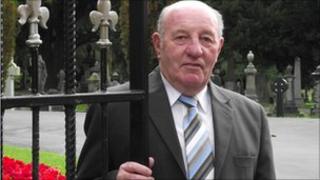 Gates at a Lancashire cemetery are to be locked overnight in an attempt by the local council to prevent thefts from graves.
Chorley cemetery on Southport Road will have its gates padlocked by staff from 22 August following a number of thefts of memorial items.
The main gates will be closed at 19:00 and reopened at 08:00 each day.
Chorley Council said the smaller pedestrian gate would remain open, but it would be locked if thefts continued.
Tory councillor Eric Bell from the Conservative-run council, said: "We've had a number of thefts from graves recently and residents whose homes back on to the site are concerned about people trying to enter their properties from the cemetery at night.
"To help with security we will be closing the main gates at night to give people peace of mind and prevent vehicles accessing the cemetery after dark.
"It's unfortunate that we're having to do this, but we hope visitors to the cemetery will understand."
The decision comes a week after a reported theft from a grave in the baby garden.
"The decision to close the gates isn't a direct result of the recent publicity, but we are mindful that there have been a few thefts recently," said Councillor Bell.