Supt Gerry Richardson: Highest ranking policeman killed on duty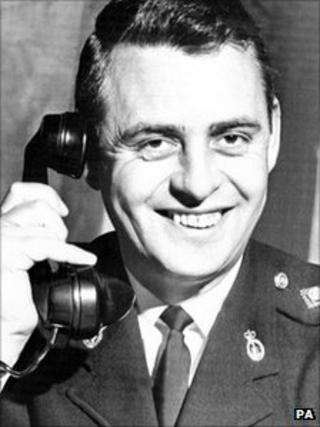 Every day for the past 40 years Carl Walker has carried a reminder of the bungled raid that ended in the murder of the most senior police officer to be killed on duty in Great Britain since the 1840s.
On 23 August 1971, Superintendent Gerry Richardson was shot at point-blank range as he grappled on the floor with armed robber Frederick Joseph Sewell on a Blackpool street.
The same gunman also wounded PC Walker, with a bullet tearing through his groin, missing bone, the main nerves and arteries, but leaving him with ongoing pain.
"In the hospital they told me if I was going to be shot it was the best place I could have been hit but the dead tissue around it touches the sciatic nerve - it's like having toothache in your leg," said Mr Walker, now 77.
The retired officer recalls being the first to answer an alarm at a jeweller' s shop.
He thought it was a routine call as shop burglar alarms often sounded first thing in the morning when staff opened stores.
Car rammed
What he was yet to learn was that an armed gang from London had robbed the shop only yards from a seafront bustling with holiday-makers enjoying the late August sun.
The robbery went wrong almost immediately, with the manager slipping into the back room to press a silent alarm which alerted the police as Sewell and his gang were trying to stash jewels.
As Mr Walker arrived at the shop he saw the gang fleeing in a Triumph 2000.
His pursuit saw a gun pointed at him from their getaway car but rather than fire shots they opted for a different tactic.
"They rammed me and smashed my panda car across the road," said Mr Walker.
By now other officers were trying to catch the gang using cars in an attempt to block their progress.
Later, with the gang now trying to flee on foot, Mr Walker was shot as he headed towards Sewell.
Struggling with a wounded leg, the hobbling officer made one last attempt to grab one of the gang.
"I thought if I could just get one of them I would be happy," he said.
"Sewell raised his gun at me again so I just dropped to the floor."
He added: "That was the last part I played in the day."
He was loaded on to an ambulance with a mortally wounded Supt Richardson also on board.
The senior officer had cornered Sewell down an alley, telling the robber to give up his gun.
When Sewell refused Supt Richardson rugby tackled him and as the two men wrestled on the floor the officer was shot in the stomach.
Last words
Mr Walker recalled: "He [Supt Richardson] told me 'I had him by the throat Carl, but he shot me'.
"You could tell by his eyes he was dying."
The death of a senior officer on the front line shocked the nation and surprised many officers from other forces. But according to Mr Walker Supt Richardson was a policeman's policeman who led from the front in a force where everyone was ready to "muck in".
"We were all like that. If there was a call for help on the radio we all used to answer it," he said.
"He [Supt Richardson] was one of the best, he always called his policemen 'officer' and would never bully or shout at people, if there was something wrong, he just had a quiet word. He was always there if you needed him."
More than 100,000 people lined the streets of Blackpool for the superintendent's funeral.
Supt Richardson was the highest ranking officer killed in the line of duty since Henry Solomon, the Chief Constable of Brighton, was bludgeoned to death with a poker by a suspect he was interviewing at Brighton Town Hall in 1844.
Forty-five days after the shooting, Britain's most wanted man Sewell was found in a London bedsit following an intensive manhunt which saw the unusual situation of a senior Lancashire detective in charge of a Metropolitan Police operation.
Sewell was given a life sentence for murder and remained in prison until 2001.
'Too brave'
Sir Peter Rawlinson QC said at the gang's trial: "Their incompetence as robbers was matched only by their ruthlessness in the use of firearms to evade arrest."
Sewell said of the man he killed: "He was too brave."
This bravery saw both Supt Richardson and PC Walker, who was later promoted to inspector, awarded the George Cross, the highest peacetime award for valour.
In all seven other officers from Blackpool who had tried to catch the gang were honoured for their bravery.
Four received the George Medal - including PC Ian Hampson who was also shot - two received the British Empire Medal and one a Queen's Commendation for Brave Conduct.
Forty years on Mr Walker has no regrets about his actions.
"I was always first in when there was trouble, that was just part of my nature."