Blackpool's Illuminations to be switched off earlier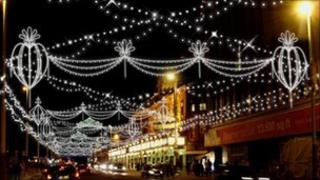 Blackpool Illuminations will be switched off 30 minutes early on certain evenings this year as part of the council's efforts to save money.
The council said it had received queries about why they were on so late when there were fewer people about.
Apart from school half-term week, the lights will turn off at 22:30 from Monday to Thursday.
Pulling the switch to turn the lights on on 2 September will be Keith Lemon, alter-ego of comedian Leigh Francis.
'Artificial Sunshine'
On Friday and Saturday they will stay lit until midnight and Sunday until 23:00.
The council estimates that it will save about £2,000.
As part of other energy saving measures the council has been using more LEDs (light emitting diodes). More than 30% are now used in the show.
Also, only electricity from renewable resources such as wind, small-scale hydro, landfill and bio-gas is used.
This year's lightshow has also been scaled back as part of budget savings and will start outside the Solaris centre rather than Squires Gate.
Claire Smith, president of the hoteliers' group StayBlackpool, said the measures were "very sensible" and would not cause a large impact for members.
Cardboard theatre
"In fact if it saves the council money which they can reinvest in the lights, it's good, but they must make sure it's communicated well to those thinking of coming here," she added.
In July, designer Laurence Llewelyn-Bowen revealed his latest contributions to the show, including a display in front of the tower called Bling and Theatre d'Amour, a moving tableau inspired by a Victorian child's cardboard theatre.
The illuminations have kept the resort aglow since 1879 when they were described as 'Artificial Sunshine'.
This year they will shine for 66 nights.