Lytham war survivor inspires award-winning novel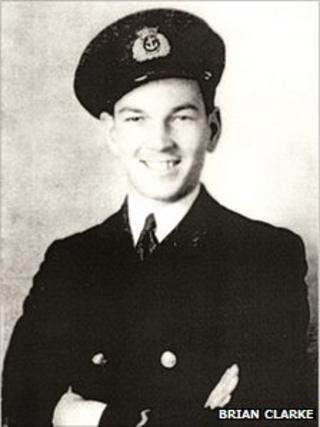 Nearly 70 years ago Brian Clarke had a miraculous escape after his ship was sunk by a German U-boat during World War II.
It was a story of which even old friends were not fully aware.
But when he recorded his memories of the torpedoing of the SS Sithonia in 1942 family friend Sara Allerton was inspired to write her award-winning novel Making Shore.
"Brian's is such an amazing survival story, he's one of my father's oldest friends and we always knew that he had had this experience during the war but we'd never got to know the details until recently," she said.
It was after reading a previous example of her storywriting that Mr Clarke sent her a recording of him talking about his wartime exploits.
"I was immediately blown away," she said.
As a 19-year-old Quaker from Lytham, Mr Clarke did not want to take up arms but felt he had to contribute to the war effort. He joined the Merchant Navy as a radio operator.
Mr Clarke described the SS Sithonia as a "rusty, old tramp steamer" and the day they met the U-boat was a "quite a lovely day".
"The captain even waited until evening before he torpedoed us, then surfaced and came alongside us," Mr Clarke said.
"The chap was quite charming, asked if we were all right for water, food and even cigarettes. His name was Captain Schnee, snow, a big snowman was painted on the sub's conning tower."
Water fight
Within four minutes the Sithonia had started to sink so the crew set off in two lifeboats.
They were part of the Battle of Atlantic campaign and believed their nearest land to be the Canary Islands some 350 miles away.
However, fate was against him, as the lifeboat he was in missed the islands completely and ended up near the African coast about 1,000 miles away instead.
"Conditions aboard the lifeboat weren't good, with five different nationalities there were fights over water rationing, sometimes it even resorted to knives at throats," Mr Clarke said.
"We were down to a tablespoon a day of water and those who died were put over the side, if they weren't weighted they would just float away."
On board his fellow survivors were forced to drink seawater or even their own urine to eke out their supplies, he added.
These stark real life recollections were used by Sara Allerton as she wove a fictional love story together for the book.
Her research for her debut book also involved delving into the history of the Merchant Navy vessels and the Battle of the Atlantic campaign.
The campaign term was coined by Winston Churchill to describe the protracted struggle by the Allies to secure shipping routes across the Atlantic.
At the time Britain had the largest fleet in the world - 3,000 ocean-going vessels and 1,000 large coastal ships.
Making Shore was awarded this year's People's Book Prize for Fiction, which is voted for by the general public.
The author was presented with the award by novelist Frederick Forsyth CBE.