Lancashire riot police voice cuts concerns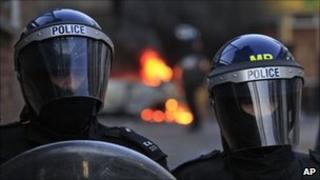 Officers from Lancashire Police, who were drafted in to deal with the London riots, have voiced concerns that staffing cuts could allow more unrest.
A group of 76 officers from Lancashire joined a 1,700-strong team deployed from forces in the regions to assist the Metropolitan Police.
Lancashire Police Federation said that some officers stated in a survey that cuts could allow "more disorder".
The Home Office said national security was "the primary duty of government".
The government proposes to cut about 16,000 officers in the UK by 2015.
'Only the beginning'
The federation said it was seeking face-to-face talks with Lancashire MPs to discuss its concerns over the 20% budget cuts which are predicted to cost Lancashire Constabulary 550 officers and 300 police staff over four years.
It said it wanted the cuts to be scaled back to 12%.
One officer from Hyndburn, who responded to the survey, wrote: "The general mindset of frontline staff is that such a response is not sustainable for prolonged periods, or in recurring circumstances.
"With requests for staff during the Olympics and further budget cuts on the police service, combined with the social unrest at overall government cuts and high rates of unemployment, staff fear that this is only the beginning."
Another officer's response stated: "Now that the troublemakers have seen the limit of the thin blue line, and that it can be cracked over a number of days, I believe we will see more disorder in the future."
The survey, based on a questionnaire, asked officers involved in frontline duties during the London riots to write down their experiences and thoughts.
'New regime'
Lancashire Police Federation chairman John O'Reilly said: "We are extremely proud of the officers who put their safety on the line to defend people and property during the disturbances.
"But the message they brought back from the riots is a clear one for the government: It would be folly to go ahead with these swingeing cuts to police numbers."
A Home Office spokesperson said: "National security is the primary duty of government and we will not put the public at risk.
"Our absolute priority is to prosecute and convict suspected terrorists in open court.
"The new Terrorism Prevention Investigation Measures (TPIM) system will provide effective powers for dealing with the risk posed by those individuals we can neither prosecute nor deport.
"Additional funding for covert investigation for the security service and the police will complement the new regime."