The Brothers of Charity mark 80 years in Lancashire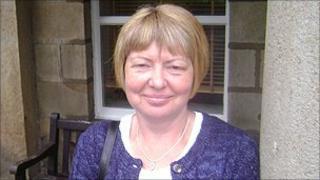 Celebrations have been held to mark the 80th anniversary of a Christian charity that pledges to help people with learning difficulties lead a full life.
The Brothers of Charity, based at the historical Lisieux Hall in Whittle-le-Woods, work alongside other agencies to provide supported living in the county.
They help around 240 people enjoy their individuality and independence in Lancashire.
Amongst their work are coffee lounges and bakeries in Leyland and Adlington.
There is also an environmental project to restore Leyland's Walled Garden at Worden Park.
Sister Kathleen Page, who works alongside volunteers for the Brothers of Charity, cites the order's Belgian founder, Peter Triest, as the inspiration for their forward-thinking work in central Lancashire.
Potential
"The words that we use today are about respect, equality, diversity, about people fulfilling their potential," she said. "When we talk about their right to choose how and where they live, they are all things that were very close to Peter Triest's heart."
Speaking about those days in Belgium 200 years ago, Sister Kathleen said: "At the time, people with learning difficulties were in institutions or were controlled.
"It is said Peter Triest went into those institutions and was so angry when he saw people chained up that he broke those chains.
"He was a real liberator of people and was known as one of the missionary reformers of social care in Belgium."
Peter Triest founded the Brothers of Charity in 1807 with a progressive vision offering people opportunities that respected their diginity. It is 80 years since his vision arrived in Lancashire.
Today, that philosophy manifests itself in places like the Roccoco Cafe Bar and Bakery on Chapel Brow in Leyland where nine people with learning difficulties, supported by staff from the Brothers of Charity, are becoming skilled at baking and front of house duties.
Lead support worker Annabelle Draper said catering staff are taught the baking process from recipe to retail.
"We don't use any packet mixes and people bake everything from scratch," she said. "We make the recipes from scratch so they are involved in all the weighing up, the baking and the finishing of the cakes. Then, they put them out on to the counter, see them sold and people eat them. They also see some great comments in the visitors' book."
Making the most of the building, Help Direct Central Lancashire staff also run an advice bureaux for customers.
'Push boundaries'
A few minutes down the road at Worden Park in Leyland, the Brothers of Charity are the lead organisation with other local agencies in the Walled Garden project growing vegetables, cutting flowers and plants and then selling their produce to park visitors. There are plans to make the garden a historic visitors' centre.
Sarah Smith, the team leader at the Walled Garden Project, who has been working alongside the Brothers of Charity for the past ten years said: "Projects like this aren't a day centre. We push boundaries and we try to find the best in everybody. We want people to reach their potential."
She said everyone who works at the Walled Garden has big plans for the future: "We are going to be growing melons and pineapples shortly. We have a 100-year-old grapevine we want to restore. We want to grow apple and pear trees, we want to grow herbs, have activity days and workshops."
Ms Smith said the Brother of Charity organisation is instrumental to their future: "It's their positive can do attitude that has given momentum to the project."
John Whitehead is one of five support managers working for the charity and other agencies in the area to support over 150 people who are living in a total of 55 properties.
"The work is vital," he said. "It's fantastic to see people living in their own homes, having great lives and getting the quality support we provide."
As the organisation passes its 80 year milestone in Lancashire, Sister Kathleen Page is adamant this is only the beginning. Looking out from beside the impressive pillars of the Lisieux Hall, she said: "I think the project just keeps on growing, so how big is endless?"
Joe Wilson presents the faith programme on BBC Radio Lancashire from 06:00 each Sunday.