Qasim Akbar returns to Blackburn after Pakistan custody battle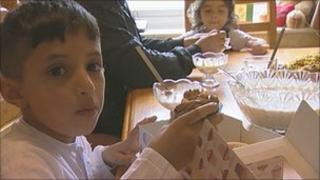 An orphaned schoolboy has been reunited with his half brother in east Lancashire after an eight-month custody battle in Pakistan.
Qasim Akbar was the only survivor in a car crash in Pakistan which killed his father, mother and two of his sisters on New Year's Day.
His half-brother Abid Ali fought family friends in court for the right to bring him back to Blackburn.
The seven-year-old returned to the UK at the weekend.
'Felt alien'
"I'm just glad it's all over," said Mr Ali.
"When the crash happened I went out to do the burial and got stuck in a custody battle.
"The hearing kept getting put off, it was next week, next month, I thought they were avoiding the issue."
Mr Ali said he had been granted custody, but an appeal by family friends in Pakistan claimed that, as the boy had lived in the country for more than two years, he could not leave the country.
A judge then ruled that the boy must stay in Pakistan while their appeal was heard.
However, the court decided on 23 August that the claimants had not provided enough evidence to prove they were close relatives.
'Blink of an eye'
Qasim was born in the UK and lived there for four years before his father took him and the rest of his family to Pakistan.
He was the only survivor of the car crash, which happened near Sheikhupura, in the Punjab province.
Mr Ali, who has the same father as Qasim but a different mother, went to Pakistan to help with funeral arrangements, leaving his wife and four children back in Blackburn.
"Being born and bred in England I felt alien there in Pakistan, I had to get used to how the courts worked, it was chaotic," he said.
"It didn't sink in at first when they told me I could bring Qasim back. Only when we got on the plane and left the tarmac could I stop thinking something's bound to stop this happening.
"It was the best feeling ever coming home."
Mr Ali now has to look for a new job, as he had to leave his previous one to go to Pakistan.
"I've never been through anything like this before, I feel in a safe place, I wouldn't wish this on anyone," he added.
"You could lose everything in the blink of an eye, it was a most horrible experience."