Lancashire police criticised over cleanliness of cells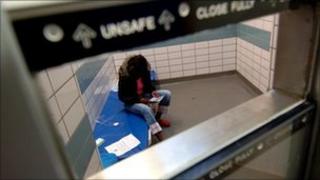 Lancashire Constabulary has been criticised over the cleanliness of its cells in a report.
The HM Inspectorate of Prisons and HM Inspectorate of Constabulary found some cells needed "deep cleaning" and graffiti removed.
The report, carried out after an inspection in April, also praised the force for its "exceptional" handling of detainees with mental health problems.
The force said it would study the recommendations and take action.
Police custody provision in Lancashire was largely positive, said Nick Hardwick, Chief Inspector of Prisons, and Dru Sharpling, HM Inspector of Constabulary.
But their inspectors found that pillows were not provided on beds in cells, while mattresses were "not always wiped down between uses".
The report stated that clean blankets had to sometimes be requested in Blackburn, Lancaster and Leyland.
Toilet paper
The report said: "At Leyland, we found one woman, who had been in custody for 20 hours, shivering with cold in her cell."
"Most cells contained a toilet but some were not screened, and in cells containing CCTV coverage the toilet area was not obscured on monitors," said the report.
"Toilet paper was given to detainees only on request."
However, it said that "the good practice in Lancashire with regard to mental health should be noted by other forces" and praised it for its "multi-agency working with detainees with mental health problems", describing its policy as "exceptional".
Assistant Chief Constable Andy Cooke said: "As you would expect with an unannounced inspection, the inspectors got a real and true feel of how Lancashire Constabulary's custody suites operate on a day-to-day basis.
"We will look at the recommendations made by the report and ensure that the appropriate action is taken."
The report also found that staff provided by security firm G4S were less respectful than police officers to detainees.
G4S staff were employed as custody detention officers (CDO) under the authority of a police sergeant.
The report stated: "Custody staff were generally respectful in their dealings with detainees, although some CDOs expressed a range of negative views about those they were responsible for."
A statement from G4S said it was pleased that the inspectors found a high level of service in the custody suites it operates but it was "concerned by the report's suggestion that our staff are anything less than respectful to detainees".