Ski Rossendale to reopen after council cuts led to closure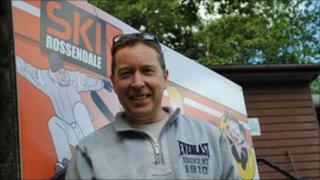 "It will never be what it was like before, it will be better and different."
Confident words from Dave Fuller, who is one of a four-strong team preparing for the reopening of one of east Lancashire's most well-known attractions.
Ski Rossendale opened in Rawtenstall in 1973 but closed in March after Rossendale Borough Council needed to find budget savings and put the running of the dry ski slope out to tender.
Over the years it has attracted Olympic skiers and many aspiring Hermann Maiers.
Dave Fuller, the site's new operations director, as part of the social enterprise scheme which successfully bid to run the slope, said he had a close affection for the place as it was where he developed his love of skiing when it first opened.
Disabled facilities plan
"Since it opened nearly 40 years ago, it's been extremely popular in the Rossendale Valley, you'd go to Cornwall and people would come up to you and say 'haven't you got a ski slope there?'," he said.
"It's a pivotal part of Rossendale's leisure infrastructure."
Since the group was awarded the opportunity to run the dry slope, it has recruited volunteers to help clean up the site.
Professional workers, including accountants, have also donated their time freely or at reduced costs. The value of time and money spent already comes to about £100,000.
Mr Fuller said the centre was looking to welcome back schools and to develop facilities for children with special needs, following discussions with Tor View Community Special School in Haslingden.
"They're really supportive and want to develop disabled facilities as they have aspirations for some of their pupils to be represented at the Paralympics," he said.
Valley views
The legacy of the centre is based on a long-term plan of reinvestment.
"We don't want it to be like having a big developer who would chuck a load of money upfront and then want his money out quickly," Mr Fuller said.
"A start which loads the business less financially in the future is a better model."
He said the centre was at its peak about 20 years ago, when queues of people waited to go in.
He said the centre attracted about 30,000 people in the 12 months before it closed but the new team expected to soon "well exceed" that.
"I have a great personal interest in keeping this going, I've had a lot of fun out of skiing and want to pass that on," Mr Fuller added.
He said the draw of an indoor snow ski centre in neighbouring Greater Manchester did not diminish his belief that Ski Rossendale would draw crowds.
"Here is what skiing's all about, being outdoors, the wonderful views of the valley, nature, yes we're playing the same sport but we're offering a completely different ski experience," he said.
"If you maintain something well, people will come."
And honeycombed ski slopes, which were clogged up by weeds and green moss, have been turned white with power washers and garden trowels.
The ski tows have also been overhauled and now await the first visitors when the site fully opens to the public on Tuesday.