Brighter Future Workshop up for National Lottery Award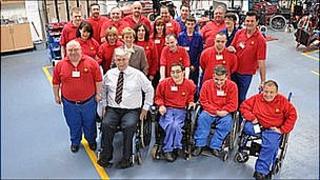 A project which helps both disabled and disadvantaged people learn skills through recycling mobility equipment is in line for a National Lottery Award.
Skelmersdale's Brighter Future Workshop is one of three finalists in the annual awards' Best Environment category.
The awards showcase those who have made the best use of Lottery funding and winners are voted for by the public.
Chairman Peter Cousins said he hoped "the local community will vote for us" when voting opens on Friday.
The Workshop, which tries to enhance the lives of people with disabilities and others who are disadvantaged by teaching hands-on skills through recycling, opened in 2005.
It has received £446,822 of funding from the Big Lottery Fund and £10,000 of funding from Awards for All.
Mr Cousins said he and the staff were "absolutely delighted to have made it to the final of The National Lottery Awards".
"We hope that the local community will now vote for us to win so that our staff, volunteers and everyone involved in the project receive the recognition they deserve.
"The publicity will enable more people with disabilities to be aware of our services and have access to our recycled equipment."
To win the award, it must beat two other finalists, The Green Valley Centre in Wales and a UK-wide project called the Open Air Laboratories Network.
Voting takes place from 2 till 26 September and the winners will be announced at an event later in the year.
The accolades are awarded in seven categories: arts, sport, heritage, voluntary/charity, environment, health and education.
The winner of each category at the awards receives a £2,000 prize to spend on their project.