Stephanie Knight detained for aiding rapes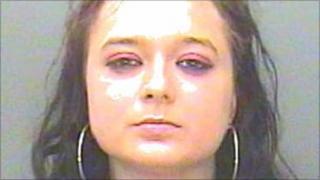 A woman who lured two teenage girls on a night out so they could be raped by three men has been sent to a young offenders institute for seven years.
Stephanie Knight, 19, formerly of Rawtenstall in Lancashire, told the 16-year-old girls they were going clubbing in December 2009.
But instead they were raped by brothers Amjad Hussain, 34, and Shahid Hussain, 37, and their cousin Tanveer Butt, 39.
The three men were all jailed indefinitely at Preston Crown Court.
They must serve at least seven-and-a-half years before they can be considered for parole.
The girls, who cannot be identified, were taken from Blackburn to a derelict terrace house in Accrington with no electricity.
One was subjected to a "terrifying ordeal" of rape.
'Vital role'
Knight and Butt, a father of four, stopped her friend going to her aid as she was crying out. Knight told her: "She is chilling with my boys."
Knight's former boyfriend, Amjad Hussain, then raped both girls as he drove them home.
Knight, who had been in local authority care since the age of 11, told a jury she had been in a relationship with Amjad Hussain for six months.
He persuaded her to perform sex acts on his brother and cousin.
It emerged during her trial that she was being supported by Engage, a multi-agency initiative set up to tackle child sex exploitation in Blackburn.
In mitigation, Knight was described as a "victim" who claimed she had previously been raped herself in a separate incident.
Judge Beverley Lunt, sentencing, said: "It is clear you have had a difficult life so far. There is no doubt you have distorted views of morality and appropriate behaviour.
"There is no question that you were badly used by these men. You knew what they were like and what their interests were and yet you lured the girls into their clutches.
"But for you, neither girl would have been exposed to the danger on the night and subjected to the humiliating rapes.
"You played a vital part in this conspiracy and knew what you were doing."
'Lack of humanity'
Knight, Amjad Hussain, of Sharples Street, Accrington, and Butt, of St Albans Street, Rochdale, were all convicted of conspiracy to rape.
Knight and Butt were also found guilty of aiding and abetting rape while Amjad Hussain, Shahid Hussain, of Drake Street, Rochdale, and Butt were all found guilty of rape.
Judge Lunt said all four defendants had shown no remorse.
She said the "total lack of humanity" shown by them as one of the girls was raped repeatedly in the house was "so disturbing and horrifying".
By pleading not guilty, they had forced their victims to "relive the harrowing events of that night and face lengthy questioning by your lawyers".
She said Amjad Hussain had told "wicked falsehoods" during the trial, in an attempt to portray his victims as "amoral and promiscuous women".