Capsized hovercraft pair rescued in Ribble estuary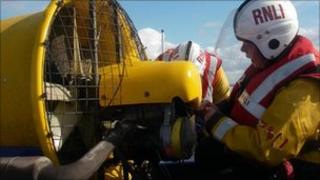 Two people were rescued from the Ribble estuary when their hovercraft overturned and they fell into the water.
The craft's engine had stalled before it capsized, a spokeswoman for the RNLI rescue service in Lancashire said.
A lifeboat crew from Lytham St Annes station was despatched to rescue the pair on Sunday and tow the stricken craft back to the beach at Southport.
The hovercraft had been on the estuary's recently opened cockle banks.
Nicki Bignell, RNLI crew member, said: "This shout was quite unique in that we don't usually get called out to help rescue a hovercraft.
"Obviously as a charity which is on call 24 hours a day, 365 days a year, we respond to anyone and anything which is in distress on the water."