Warton's RAF Tornado jet flypast called off due to bad weather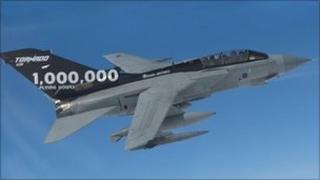 A special flypast of a Lancashire-built Tornado GR4 jet plane to mark one million flying hours has been postponed because of poor weather.
The aircraft was due to flyover British Aerospace Systems' Warton airfield near Preston on Tuesday as a tribute to those who had helped build it.
"It would have been unpleasant for people to have to stand out in the wind and rain," a spokesman said.
The aircraft would have been in a special liveried colour scheme.
Another flypast is expected to be scheduled in a few weeks' time.
The aircraft has been on active service all around the world since it first flew with the RAF in 1979. It has been involved in operations across the world including Iraq, Afghanistan and recently Libya.
The final assembly of the RAF's 228 Tornado aircraft was at British Aerospace Systems' Warton site.
The one million flying hours was reached on 27 June by the famous "Dambusters" 617 Squadron in an aircraft flying in Afghanistan
The first British prototype was flown by a BAE Systems pilot from Warton in 1974.