Lancashire patient's stroke diagnosis by TV videolink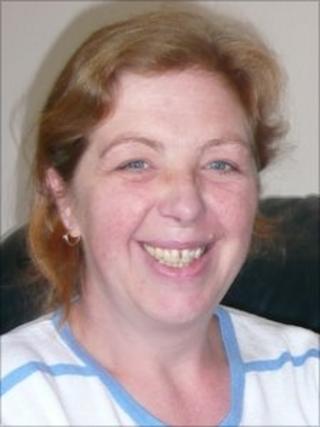 When Maria Nelson could not talk because her mouth would not work properly, her friends thought she was joking.
When she started to lose control of her left arm and leg, they knew it was more serious. She had had a stroke.
She was taken to the Royal Blackburn Hospital, but was quickly helped when consultant Dr Nick Roberts diagnosed her by videolink from home.
Mrs Nelson said: "When I heard them say in the ambulance that they thought I'd had a stroke I just started to cry. I care for elderly and disabled people for my job, and I've seen the really devastating effects of stroke. I kept thinking 'that's me now'. I was really scared."
Dr Roberts communicated with Mrs Nelson and staff at the hospital by a new system - Telestroke.
'Like Skype'
It allows consultants to communicate with patients via a mobile screen with a camera, enabling them to see and speak to patients and recommend appropriate treatment.
Dr Roberts said: "The system is just like using Skype, and the only difference from a face-to-face consultation is that you rely on the doctor who's in the room with the patient to carry out sensation and movement tests."
In an acute stroke, time is of the essence and the sooner treatments can be provided the better.
Mrs Nelson was given thrombolysis drugs, a treatment that can only be given to patients within four-and-a-half hours of the onset of their stroke, so early diagnosis is vital.
She said: "I was absolutely gobsmacked at how fast it worked. Within half an hour my speech started to come back. I'd not been able to work my left arm at all but then the feeling started to return in my hand and I could wiggle my fingers.
'Incredibly lucky'
"I spent a night and a day on the stroke ward, and when my daughter Zoey came to see me on Tuesday afternoon I was ready to go home. My short-term memory still isn't great and my leg still feels heavy, but otherwise I'm OK.
"I feel incredibly lucky - the treatment I had doesn't work for everyone, and it has to be given within a really short time after the stroke. I would still be in hospital now if I hadn't had it."
The Telestroke system has been two years in the planning, as a team effort between all members of the Lancashire and Cumbria Cardiac and Stroke Network, and is expected to save the NHS over £8m a year.
The eight hospitals involved are Cumberland Infirmary, Carlisle; West Cumberland Hospital, Whitehaven; Furness General Hospital, Barrow; Royal Lancaster Infirmary; Blackpool Victoria Hospital; Royal Preston Hospital; Royal Blackburn Hospital and Southport General Hospital.
By pooling resources and using these new technologies, it is hoped patients can get fast treatment, whatever time it is and wherever they are in the region.